Bundaberg, Australia
March 19, 2007
(Steph) St. Patrick's Day in Australia is not as big an affair as it has become in the U.S. (and in Melaque, Mexico). Warren and I talked a few friends into heading into town on St. Patty's Day to form our own little party. If you looked hard, you could spot a few little shamrocks around town, but it was much tamer than probably any U.S. city would be.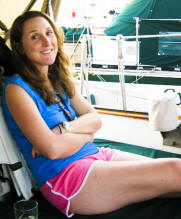 We went to a sports club which is a popular diversion for Australians. Australians love to gamble on horse and dog races, and keno, and it appears whatever else is worth wagering. They also gather socially at these clubs, and you can visit as a guest. It's generally a place to find a low-priced, mediocre meal. Basically, they are the cruiser's answer to a night out, although they do have standards – Warren was only allowed in with his flip-flop sandals if he promised not to walk around.
We had dinner, I managed to bypass the slot machines (or pokeys, as they call them here), and then we headed to a pub for a few drinks. The pub filled up with young people, although it seemed to be just another Saturday night for them. Warren didn't have the nerve to play "Land Down Under" on the jukebox, so we didn't get to see if the crowd would roll its collective eyes or come unglued.
More shots: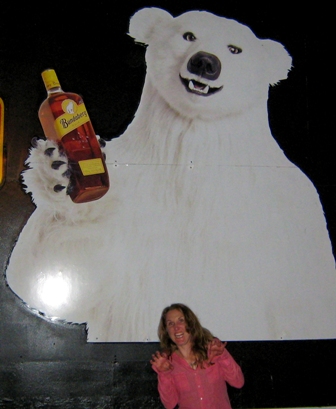 Everyone's favorite little Oso Blancos ...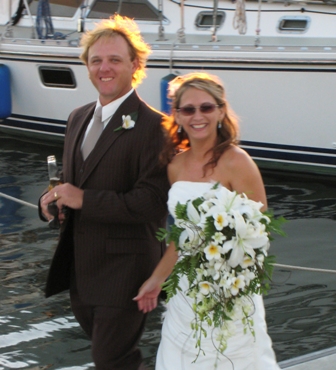 Wedding procession on Mico's dock ...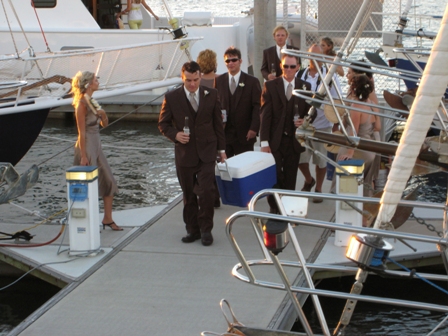 ... and following the bride is the royal escort of the "eskie" (beer cooler) ...