Vuda Point, Fiji
July 15, 2006
(Wojo) The amount of work we've done this time around at Vuda has been astounding. Can't believe we've already been here five weeks.
The biggest entry on our list was our very long overdue bottom painting. But this was to be no regular sand-a-little-and-just-paint-over-all-the-old-stuff kinda project. I was determined that we should do her right this time. This meant first hiring a team of people to do a nasty job.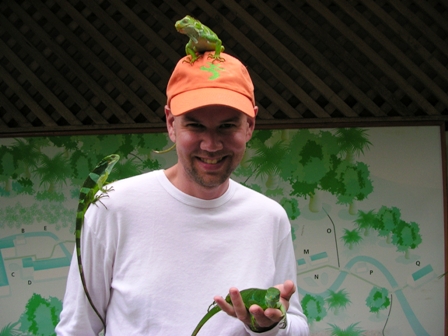 It wasn't all work -- still time to make some new drinking buddies
The first phase was destruction. Thirty years of bottom paint came off (we stopped counting at ten distinct colors of paint). She was taken down all the way to the gel coat and where the gel coat was gone down to the glass. Next came the inevitable blister (osmosis) repair portion.
Blisters occur when water permeates the gel coat, mixes with the top of the substrate in the glass and turns to an acid. This starts to eat away at the rest of your substrate (hull) and looks awful. Short story: it wasn't as bad as I had imagined it. Most of the blisters came with the boat when we purchased her. The rudder was more severe, however.
To repair the blisters we need to "pop" them all and grind out enough of the gel coat to get every drop of water out. Next comes the waiting phase. We left her to dry for nearly four weeks (one month is a general rule of thumb). Next came the filling of the blisters with repair epoxy designed for this work. There were several iterations of filling the blisters and fairing the hull.
Once general smoothness was achieved we thoroughly cleaned the hull and sprayed three coats of two-part epoxy barrier coat followed by two coats of primer (also sprayed).
I finally was able to lay my dream bottom paint solution on the primer: one coat hard epoxy bottom paint (blue) followed by two coats self-polishing soft (black) paint. If it works I'll let you know.
Cost --
Labor: $1800
Materials: $700
Boat yard fees (Haul out etc): $500
Total: $3000 USD
Here's a link to our project list.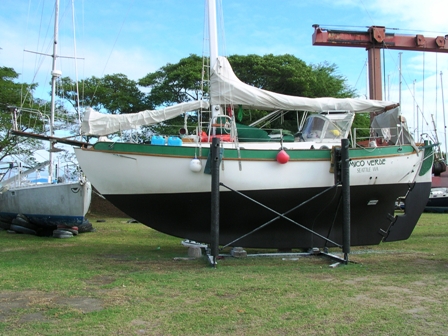 Mico and her fine new bottom.
Previous Entry Next Entry Home
To read previous posts, check out the Journal.
Do you want to be alerted when we update? Please email micoverde@gmail.com to let us know.