Brisbane, Australia
April 2, 2007
(Steph) Australia is a big country, so getting from point A to point B, even by air, takes a few legs. On our trip from Bundaberg to Tasmania, we had three flights. We flew from Bundaberg to Brisbane, and then had a few hours to kill before continuing on to Sydney and then Hobart. We spent those few hours taking a train into Brisbane's center, then catching a bus out to its outskirts to a koala sanctuary. We spent several hours getting out there, spent one hour at the sanctuary, and then had to get back on the bus to get all the way back to the airport. But it was totally worth it -- I got to hold a koala!
Orion was pretty light -- I would say around 10 lbs. His fur feels like a wool flannel blanket -- very dense and somewhat coarse. I had to support his bottom or else he might have tried to climb me -- look at those claws! But otherwise he sat calmly in my arms. His pupils are like a cat's. Koalas sleep twenty hours a day and eat four hours a day. They only eat eucalyptus leaves, and don't drink water. They are close relatives of the wombat, the animal that ties with the koala for cuteness, in my book.
More about our travels when we've culled through our large photo collection.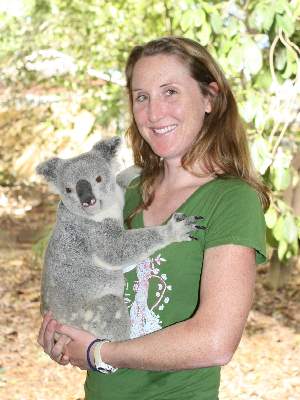 Winner of last week's cute awards