Riung, Flores Island, Indonesia
August 23, 2007
Bonus!!! Here's some video we shot while trekking in Riung.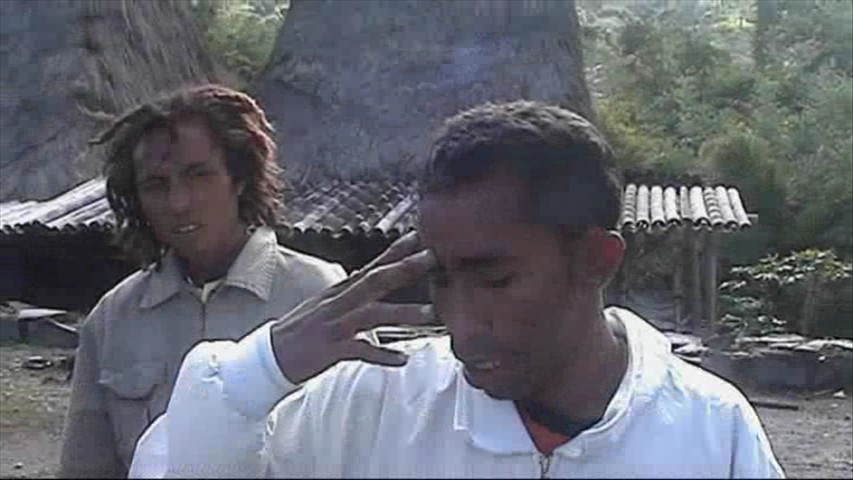 Our guides Yadron and Si-mon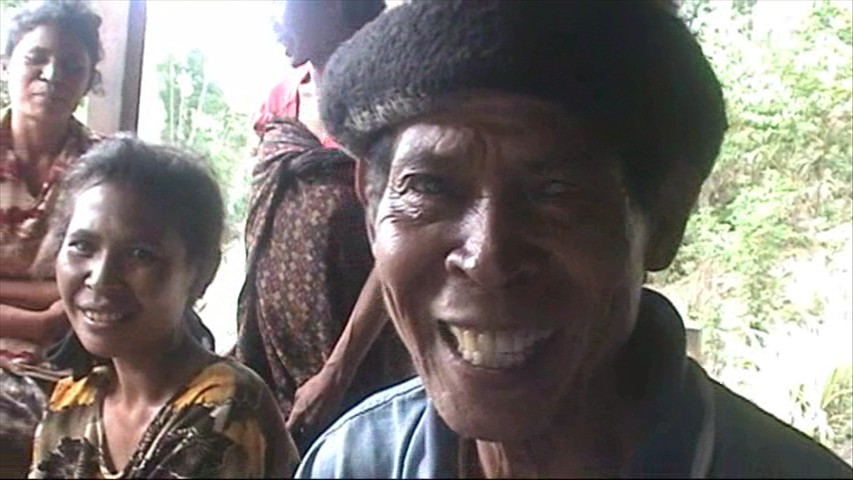 Owner of their religion, town and Kopi plantation Mr. Yusef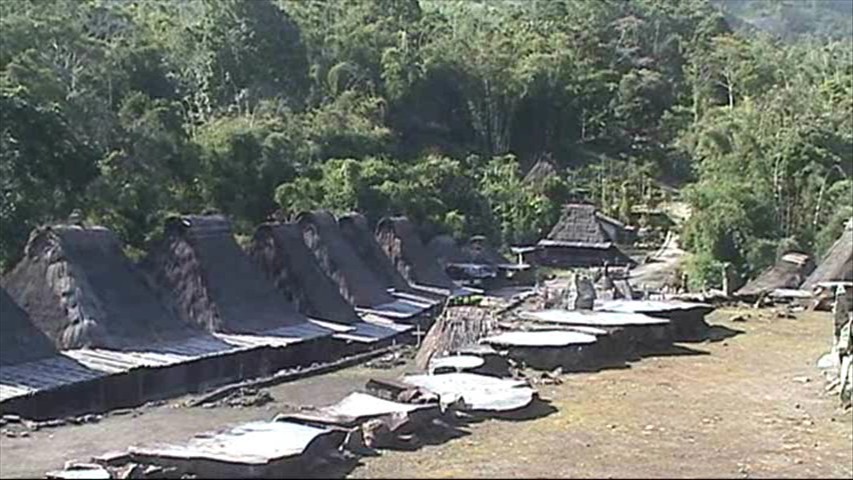 Mysterious village high in the hills on the North side of Flores island
(Steph) We anchored at Riung, a lovely village that is surrounded by a lot of small islands and reef, making it very comfortable away from swell and with good snorkeling to boot! We pulled in with a few other boats, and we all got together that first night for a meal on shore, the first restaurant Warren and I had visited since Lembata. Riung has a nice floating dock for tying up dinghies, which was a first for us in Indonesia. Upon arriving at the dock, we were greeted by enthusiastic teenagers, which is pretty standard in most places we've been. But the kids here must have a good English teacher, because they immediately sparked up conversations with us about where we're from, what are our names, where else in Indonesia have we visited, and on and on. What a refreshing change from the constant cries of "Hello mister!" that had started to grate on our nerves. The kids accompanied us to the restaurant and then said goodbye for the night. Our meal was pretty standard fare, which consisted of very peppery (as in ground white pepper) chicken soup, fried chicken, sauteed greens, and chow mein (or as they call it mie goreng). With the exception of the restaurant we frequented three times in Kupang, we've found that most restaurants serve the same dishes. But at an average of $3.00 a person, which includes a beer, who's complaining?
The next day our friends moved on, but we were set on exploring Riung because it had been a favorite stop for previous rally participants. We walked through town with our diesel jerry jugs. After several tries at road-side fuel vendors (people sell gasoline and diesel out of glass jars in their front yards) we managed to find someone that had 10 gallons of relatively clean diesel. Locals were friendly, courteous and helpful, and once again, we encountered more than a few who spoke English well. We also spotted a few tourists, which we hadn't seen yet in any of our Indonesia stops! That may account for the English skills of some of the locals.
We wanted to also take on some water, which can be a bit of a hassle because we have to buy purified water in 5-gallon jugs. Not all towns have that kind of water in stock -- we tried asking at a hotel, but didn't get anywhere. We decided to call the number of a tour guide our friend had met, thinking he might be able to tell us where to find water. He told us he wasn't in Riung that day, but that he'd send a friend down to the dock who could help us out. Minutes later, a guy walked out onto the dock wearing a bright orange shirt that said "Water and Sanitation Department." What an appropriate shirt! His name was Simon, and we realized that we had met him in town earlier in the day while searching for diesel. He quickly found us our water, and conversation moved on to what sights Riung had to offer. He told us about a few places, and then volunteered to take us around the next day on his motorcycle. We arranged to meet him the next morning at 8:00.
At 8:00 he and his friend Ladro rolled up on their motorcycles and off we went. Riding on the back of the motorcycle was fun for the first 30 minutes, but after two hours we had definitely had our fill. Luckily, by then we had reached our first stop. It was Vovomudo, a volcano with a colored lake filling its crater. Simon had told us we'd look at the lake, but he hadn't mentioned we'd have to climb the 5k up to the volcano's rim. But gamely, we climbed, even though Warren's flip-flops were not up to the task. After a lot of huffing and puffing, a broken flip-flop, and doubts that we'd ever make it, we arrived at the volcano's rim, to look down into an orange puddle. The region has been in drought for a few years, so the crater's lake has dried up considerably. Neither Warren nor I would say it to our hosts, but it was not worth the climb. Oh well, just another experience under our belts! We limped down the side of the volcano, lashing the sole of Warren's flip-flop to his foot. Simon and Ladro tried to donate their shoes to his cause, but he wouldn't hear of it, so Ladro found him a big walking stick. Warren was a very good sport (as I wouldn't have been), and called himself "The Old Man." Simon and Ladro thought he was pretty funny, and I was giggling too, although it was mostly because I have a bad habit of laughing when Warren hurts himself (I think it's genetic, because my brother laughs at inappropriate moments, too). At the base of the volcano was a small village where we met the chief and his family, and drank coffee (kopi) with them. Many people here cultivate their own coffee, so having a cup with a family is a fun activity.
Our next stop was lunch in the big town of Bijawa. Lunch was the usual fried chicken and chow mein, and then we made a quick stop to look for new shoes for Warren. His feet are about twice the size of the average Indonesian's, so rather than look for shoes he liked, our search became focused on any shoes that would fit. His feet were extremely dirty and grimy from our hike, so it was really embarrassing for him to have everyone looking at his feet during our search. Eventually we found one pair that fit, and we were off to our next destination.
Simon and Ladro next took us to the village of Bena, which was really quite impressive. Of all the "traditional" villages we've seen, and every island proudly boasts of a few, this was the most incredible. The entire village is built on a system of stones that elevate it quite high from the floor of the rainforest. They say it's supposed to be in the shape of a ship, but it looked more like the steps of a pyramid to us. We met the chief who was happy to tell us about the legends of his people, for only a small donation. :) Large slabs of stone are used as the foundation of the village, but also decorate the family tombs that are scattered throughout the village, and make up the several offering areas where sacrifices are made. On the day we visited, a few people were practicing their drumming routine that they planned to take to the rally events that were happening in Maurole (another rally stop we skipped). In order to leave the village and perform, they had sacrificed a buffalo earlier in the week -- we were proudly shown the blood on the altar.
Next, we stopped in Bijawa again so that I could visit the vegetable market. I'm an old hand by now with the numbers and money, so I efficiently went through the market and picked up some carrots, eggplants, potatoes and bananas. Ladro was trying to help me by translating, but I've learned enough Indonesian to make the market visit a somewhat successful communication experience. Done with shopping, we were off to our final destination, the hot springs. It was getting close to dusk, and we knew we had several hours to go before we'd arrive back in Riung. Resigned to riding on motorcycles in the dark (and did I mention no helmet had been provided for Warren?), we decided to go ahead and visit the hot springs. And are we glad we did! They were the most incredible we've ever seen -- a giant pool lets out into a swiftly running creek, and the water is a delicious temperature, like a natural jacuzzi. We were there late enough in the afternoon that it had started to cool off, and we had to resist the temptation to plunge in up to our necks. Unfortunately we didn't have bathing suits so we just waded in up to our knees. But it was completely worth it, and I'd recommend a visit to the hot springs for anyone who gets within 500 miles of Flores Island!
Finally we were on our way back to Riung. Simon and Ladro were tired of driving, and there were potholes a-plenty, so the ride in the dark was pretty nerve-wracking. But we made it safely back to Simon's family's village, where we stopped to have a cup of coffee at his parents' house before the last 30 minutes to Riung. They happily made up some coffee (grown in their garden, of course) and sat around with us while Simon played the Guns n' Roses version of "Knocking on Heaven's Door" for all of us on his mobile phone. Simon's mother insisted we call her Mama Sim, and gave us a jicama from her garden to take home. I tried to tell her by rubbing my tummy that we really like jicama, but she probably thought I was signalling to her that I was pregnant. In any case, she gave me a smile in response to my "terimah kasi" (thank you). We arrived back in Riung at 8:00 with only a few gnats between our teeth.