What can be said about the Westsail 32 that hasn't been said a thousand times before? You either love 'er or your hate 'er but I question the motive of anyone who thinks they can find a better yacht for $55k that will get you to Tahiti and back.
Looking for a few tips on getting the most out of her? Try these:
- Keep the bottom spotless at all times. For most buyers this will mean taking the bottom all the way down to the glass (probably scraping away at least 20 coats of previous owners paint-over jobs). If you can possibly wait – do this in Fiji. If you make it all the way to Vuda Point Marina ask for Willy.
- Don't worry about getting a folding prop. But ditch the Michigan prop for a Campbell Sailor.
- Keep the rig in tune.
- Buy new sails from Hasse in Port Townsend. Yes they are the most expensive you'll ever find but the quality is 100% better than everything else (especially that junk from North Sails).
- Keep her light and balanced.
- Don't worry about going roller furling.
- Carefully inspect the boomkin before leaving.
- Add a zinc to the bobstay fitting.
- Use a spinnaker.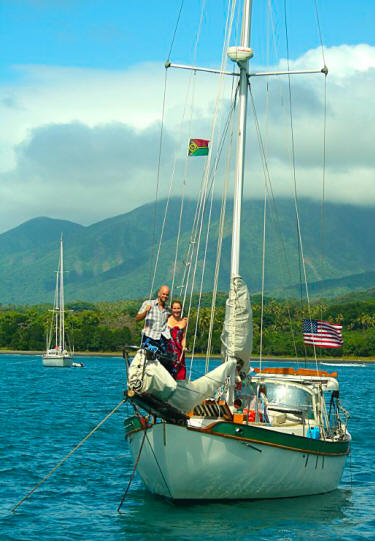 Photo By Capt. Fatty Goodlander (2006) in Tanna, Vanuatu - moments like these make it all worthwhile!