Beijing, China
January 21-25, 2008
(Steph) We spent a few days in China last week, the first time for both of us. We had heard good things (friendly people, great food) and bad things (bad hygiene, pollution), but were excited to see a new place after three months in safe, sterile Singapore. We arrived on Monday afternoon, checked into our hotel, and ventured out on the streets to find a restaurant for dinner. We walked amongst a bunch of people on the streets who were all bundled up in knee-length and hooded quilted coats. We looked on in envy; despite trying to prepare for the cold, we didn't come close. The highest the temperature ever reached was -2 degrees Celsius (about 28 degrees Fahrenheit), and it was windy!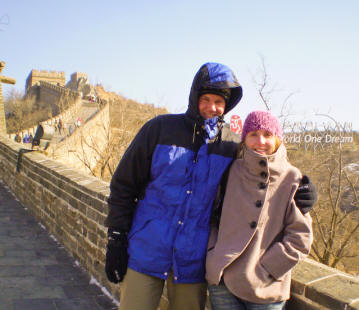 Warren and Steph at the Great Wall of China.
We were on the look out for a hotpot restaurant. We'd both only had hotpot once, at our friend Denise's home in Seattle. We thought it would be fun to do the authentic thing. We found a restaurant within a 10-minute walk of our hotel. We piled into the hot, steaming restaurant and somehow managed to communicate that we'd like a table. The hostess managed to communicate to us that we were on the waiting list. We settled into the waiting area and watched how the locals do it. Hotpot consists of a big, boiling vat of broth that is set in the middle of the table. You order a number of items that come raw to the table, and you drop items into the broth as you would like to eat them. After a little time, you fish out your items with chopsticks and then eat them hot and steaming, accompanied by a number of condiments and sauces.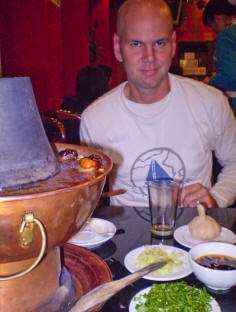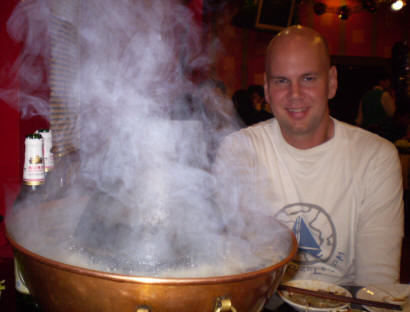 Our hotpot could double as a facial steamer.
We've never been more thankful for picture menus. We pointed at tofu, lamb, enoki mushrooms, cilantro, noodles, and some kind of greens -- dandelion? The sauce we ordered had been recommended by our server by way of sign language. On the menu it was called "numb sauce." It all came to the table along with our giant vat of broth, which was sitting over hot coals, bubbling away. We started the process, fishing out our food after a minute or two, dipping into the sauce, and generally making a mess as we enjoyed the experience and the flavor. After about 5 minutes, I stopped eating for a moment while I paid more attention the sensation in my mouth. I could still taste things, but my tongue, cheeks and lips were totally numb. It kind of freaked me out. At that moment, Warren started to come to the same realization. We had a moment where we had to decide if we had just been drugged. Warren said, "I feel like my lips are high." We finally decided that the sensation was totally physical, and did not affect our minds at all, so we dove back in. I discovered that a quick antidote to the numb sensation was pickled garlic that had been provided as a condiment, so whenever the feeling got a little too intense I'd just pop a garlic clove and feel like normal again in no time.
Beijing is a huge city, so you can only see so much of it in only 4 days. Also, most of its sights are outside and it was painfully cold, especially for those of us who haven't experienced a day under 80 degrees F in almost a year. We went out to a section of the Great Wall, where we managed to keep warm by walking briskly along the wall, but could only stand it for about 30 minutes. But it was an incredible feeling to be there. We also went to Tiananmen Square, but quickly abandoned the idea of continuing on to the Forbidden City, a must-do activity, because the wind brought the temperature down even further. Every day we got back to the hotel we would each enjoy a hot bath. Our toes would never warm up otherwise.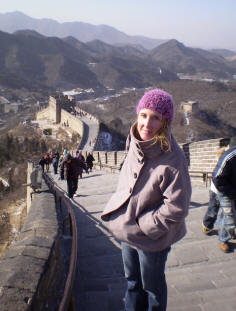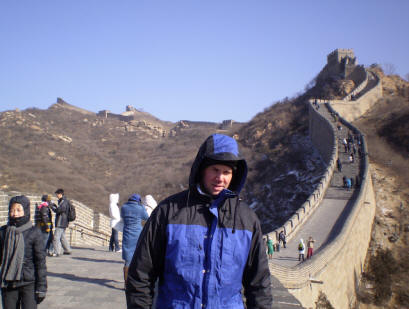 The photographer in each of these shots had finger-frostbite by the time he or she was done taking the picture.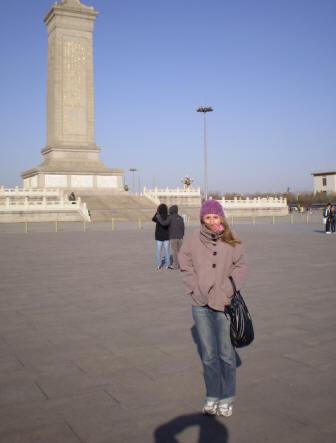 Steph at Tiananmen Square.
To anyone who feels any trepidation toward visiting China, here is a quick summation: The people we interacted with were all friendly, despite our problems with communicating verbally. The hotel staff did speak English, which was very helpful. The skies were blue and clear, and neither of us felt any obvious effects of the pollution. The food was good and generally cheap, unless we ate at the hotel. We spent about $5 USD/person for every restaurant meal, and I think we were on the medium-class scale. The weather was super cold, so if we visit again I think we'd choose Spring or Autumn. We enjoyed ourselves in the extremely short time and would already like to go back again someday.